Bellwether 2019
10 days and nights of art and experiences in downtown Bellevue! Bellwether is the City of Bellevue's annual arts festival. Expect scores of artwork scattered throughout the Bellevue downtown core, including painting, sculpture, video, and installations, plus daily performances, and special evening events. This year's theme is Taking Root, activated by a team of curators and artists who explore notions of identity and cultural exchange.
Locations include Bellevue Arts Museum, Bellevue Connection, City Hall, Doxa Church and Meydenbauer Center Theatre. Bellwether is free and open to the public. A public opening celebration will be at BAM on Friday, Sept. 13, 6:30-9:30pm. Other highlights include the Soul Selections Showcase at Meydenbauer on Sept. 14, a pop-up art market at BAM on Sept. 14 and 21, and a reception and performance at City Hall on Sept. 21.
Event Highlights
Friday, September 13, 6:30-9:30pm
Opening Party
Join us to celebrate the launch of Bellwether 2019! Hosted by Bellevue Arts Museum, the opening party will feature performances by Degenerate Art Ensemble, Chanee Choi and others. Bring your friends, meet the artists and kick off Bellwether 2019! Food truck and no-host-bar available.
Bellevue Arts Museum, 510 Bellevue Way NE
RSVP
Saturday, September 14
7pm: Soul Selections Showcase at Meydenbauer Center Theatre
Sunday, September 15
3-5pm: Conversation on Art & Culture at Bellevue Arts Museum
Saturday, September 21
3-5pm: Conversation on a Sense of Place at City Hall
5-6:30pm: Reception & Performance at City Hall
7pm: PNW Super Soul All-Star Revue at Meydenbauer Center Theatre
For more information and plan your itinerary at Bellwether 2019.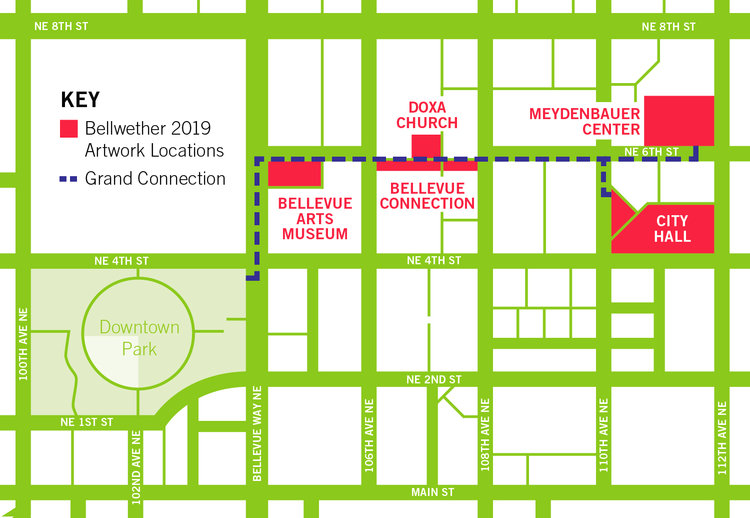 History
A bellwether is a sign of things to come. The name was chosen as a symbol of the overarching mission of the event: to showcase Bellevue's creative future and to turn that future into reality.
Bellwether got its start as a biennial sculpture exhibition in 1992. Now in its 15th series, the event has evolved to encompass new forms of art and culture. Since 2018, Bellwether is held every year to harness the city's growth and support artists year-round.
Support for Bellwether 2019 comes from the City of Bellevue.
Questions?
Contact Scott MacDonald, Bellwether Program Manager, 425.452.4105 or jheim@bellevuewa.gov.
Bellwether on Social Media:
facebook.com/bellevueartsprogram
instagram.com/bellevueartsprogram